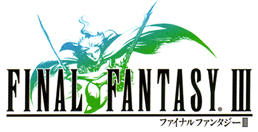 Four young warriors fight to restore the four Elemental Crystals and defeat the evil Zande. They're helped by more than a dozen possible job classes, which they can change judiciously whenever they want.
Releases:
Final Fantasy III (NES - 04/27/1990 JP)
Final Fantasy III (NDS - 08/24/2006 JP, 11/14/2006 NA, 2007-05-04 EU)
Buy FF3 Merchandise at the FFC Store!
---
---
Game Help:
Soundtracks:
Final Fantasy III: Original Sound Version (1991)
Final Fantasy III: Eternal Legend of Wind (1993)
---