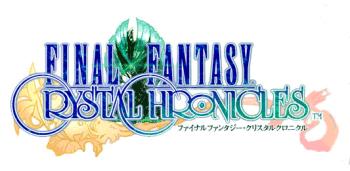 The first FF on GameCube, Crystal Chronicles makes use of the Game Boy Advance to allow multiple people to play. As an evil gas creeps over the land, the heroes must find mana pools to energize mystical crystals that drive the gas away. People of the land's towns slowly succumb to the gas's power as time runs short, driving the characters in their righteous quest.
Releases:
Final Fantasy: Crystal Chronicles (GC - 08/08/2003 JP, 02/09/2004 NA, 03/12/2004 EU)
Buy FFCC Merchandise at the FFC Store!
---
We need the information for this game! If you'd like to contribute, please take a look at one of the pages (story, characters, places), for another FF and send something similar about FFCC to the webmaster. We also need info to add to other pages, such as Monsters, Species, etc. Help this site grow!
---
Game Help:
Soundtracks:
Currently Unavailable
---