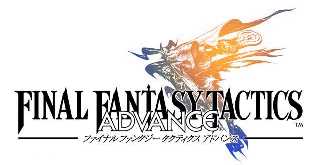 When Marche and his two friends read a mysterious book, they turn their world into a video game world, populated by humans, moogles, viera, nu mou, and bangaa. Can Marche find his way back home, and does he even want to? The first strictly handheld Final Fantasy game continues the strategy-RPG format of the first FF Tactics to find out.
Releases:
Final Fantasy Tactics Advance (GBA - 02/14/2003 JP, 09/08/2003 NA, 10/24/2003 EU)
The American version had additional "Recommended Laws" feature not present in the Japanese version, which gave Judge Points to units that executed specific actions in battle.
Buy FF Tactics Advance Merchandise at the FFC Store!
---
---
Game Help:
Game Script:
FFTA Game Script (incomplete) by Draco Letty
Soundtracks:
White Flower (2002)
Final Fantasy Tactics Advance Original Soundtrack (2003)
White Melodies of Final Fantasy Tactics Advance (2003)
Final Fantasy Tactics Advance Radio Edition vol.1 (2003)
Final Fantasy Tactics Advance Radio Edition vol.2 (2003)
Final Fantasy Tactics Advance Radio Edition vol.3 (2003)
Final Fantasy Tactics Advance Radio Edition vol.4 (2003)
---